Submitted by Amanda Brown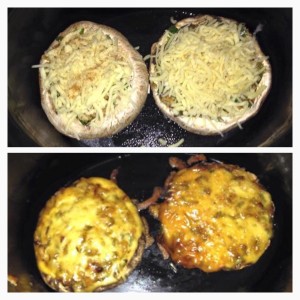 Stuffed mushrooms
Ingredients
2 large flat mushrooms

2 rashers of short cut bacon diced

1 small onion finely diced

1/2 capsicum finely diced

2 cloves of crushed garlic

1 tbs olive oil

1tbs sweet chilli sauce

1/2 cup fresh bread crumbs

1/2 cup grated Parmesan cheese

A handful of baby spinach chopped

Cheese of your choice
Instructions
Chop up mushroom stalks and saute in olive oil with onion, capsicum and garlic. Cook until slightly browned.

Take off heat and add fresh bread crumbs, baby spinach, 1/2 the Parmesan cheese and the sweet chili sauce, mix through and stuff the mushrooms pressing down as you go.

Top with remaining Parmesan cheese and some more grated cheese of your choice.

Spray your slow cooker and add mushrooms, place a towel under the lid and cook - 2 to 2 and a 1/2 hours on low

This can also be done as an apetizer using small button mushrooms.