Individual meatloaf to suit all tastes
Submitted by Karen Stuckings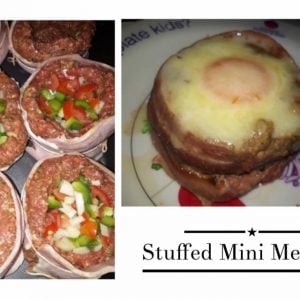 Stuffed Mini Meatloaf
Individual meatloaf to suit all tastes
Ingredients
Meatball recipe
1kg of premium mince

2 eggs

1 cup fresh bread crumbs (I made my own)

1/3 cup of thick bbq sauce (I used brown sugar bourbon flavoured bbq sauce)

1 tablespoon of crushed garlic

2 tablespoons of Italian mixed herbs

1 grated zucchini

1/2 teaspoon ground black pepper

6 rashers of middle bacon (to wrap around meatball)
Filling
1/2 chop onion

1/2 chop capsicum

1 small tomato chopped
Topping
6 eggs

1/2 cup grated cheese (I used mozzarella)
Instructions
Put meatball ingredients in a bowl and mix well until combined

Separate mixture into 6 even balls

Choose a glass or cup that has continuous width , turn upside down and cover with glad wrap (this is to make it easier to remove mince)

Take one mince ball and mould over base of glass making an indent for filling

Wrap a rasher of bacon around mince and secure with kitchen twine

Remove meatball and place on tray, repeat with other meatballs

Refrigerate for at least 2 hours or freezer for 15 minutes to firm mince back up

Put filling ingredients in a bowl and mix well

Place mince casings into slow cooker and evenly share filling mixture

Cook for 3 1/2 hours on low

Crack 1 egg into each meatloaf and sprinkle with cheese

Cook for 1/2 hour on low or until egg to your liking
Notes
Other grated veg can be added to mince mixture eg carrot.

Filling mixture can be changed to suit your needs.

One family member didn't want filling so I scrunched up baking paper and placed in indent for first part of cooking so mince would hold its shape, removed when adding egg and cheese.

When filling make sure you leave enough room for egg at end.

Serve with chips or salad or veg or even just on bread roll as a burger.

Cooked in breville 7L, if using other slow cooker times could vary.