Submitted by Carly Fitzgerald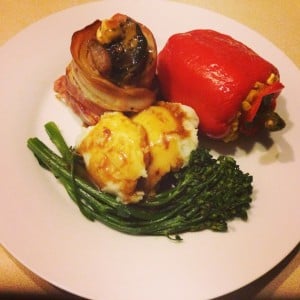 Stuffed Chicken Thighs with Stuffed Capsicums
Ingredients
4 Chicken Thighs

4 Rashes of Bacon

4 Feta Cheese

Baby Spinach

Avocado

Sun-dried Tomatoes

Pepper

Dried Sage

Onion Powder

Garlic Powder

Dried Thyme

White Wine

Cooking Twine

Stuffed Capsicums

4 Small Capsicums

3/4 cup of Rice (partially boiled)

1 cup of Pumpkin (cut in small cubes and partially boiled)

Sun-dried Tomatoes

Chorizo

150g of Feta (cut in cubes)

1/4 cup of Grated Cheese

2 Cloves of Crushed Garlic

Red Onion (diced)

3 teaspoons of Basil Pesto

Gravy Powder
Instructions
Thighs
Open up the chicken thighs and lay flat on a chopping board

Layer spinach, a slice of feta cheese, a few sun-dried tomatoes, a couple of slices of avocado

Sprinkle with pepper, dried thyme, dried sage, onion powder & garlic powder.

Roll up the thighs

Wrap with the bacon rashes

Tie with cooking twine.

Put in the slow cooker

Pour a splash of wine on each one.

Cook on low for 2 hours.
Capsicums
Wash the capsicums

Cut around the tops of the capsicums and remove the seeds.

Combine all the ingredients in a bowl and mix together

Stuff the mixture into the capsicum.

Add to the slow cooker with the stuffed chicken thighs

Baste the capsicums and the thighs with the juices in the slow cooker

Cook on low for a further 2 hours.
Gravy
Add some of the juices from the slow cooker along with some boiling water and gravy powder in a saucepan and stir until the gravy has thickened.