Submitted by Wendy Nelson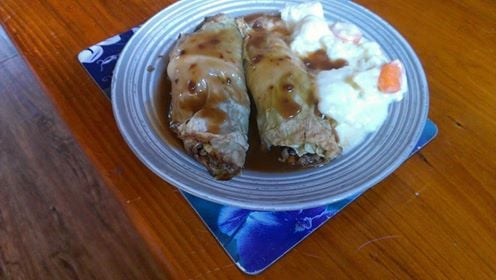 STUFFED CABBAGE ROLLS
Ingredients
8 White Cabbage leaves

400gms Mince

1 onion

2 cloves garlic

1 green apple

small handful pitted dates

Quarter each of yellow and red capsicums

1 Carrot

dash of soy sauce

sprinkle of ground pepper.
Instructions
Steam cabbage leaves for 5mins or until warmed through, put to one side.

Brown onion, garlic and mince (can just use it raw if preferred.

Dice apple, dates, capsicums

grate carrot

Mix all ingredients together (except cabbage leaves) adding soy sauce and ground pepper.

Use 2 Cabbage leaves for each one. Spoon mixture into the 2 cabbage leaves and roll, putting join downwards.

Place on baking paper in s/c. Lay cabbage rolls on paper.

Auto for 1.5hrs or Low for 2 hrs.

If mince is used raw, increase cooking time to 4hrs.