Submitted by Monika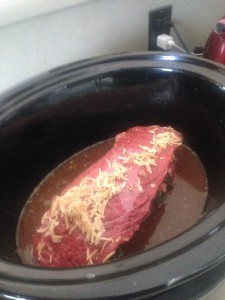 Stuffed beef roast
Ingredients
1-3lbs boneless eye of round beef roast

1/2 packet Cream cheese

1 cup of diced fresh mushrooms

1/2 bag of baby spinach

Worchestshire sauce

1 can beef broth

1 packet beefy onion dried mix

Seasoned salt

Minced dried onion

Dried Italian herbs
Instructions
Saut mushrooms in pan in butter and seasoned salt and Worcestershire sauce until mushrooms are golden brown and add spinach and cook until spinach is wilted. Turn off mixture and let it cool.

Cut beef in half and use tenderizer mallet to shape beef into 2 half equal pieces. Spread cream cheese on the bottom of 1 piece and cover with cooled spinach and mushroom mixture. Put other beef half on top. Pour seasoning salt, dried herbs, and minced dry onion on cutting board and flip one of the roast on top of this to season.

Use a spatula to pick up roast to place in slow cooker. Then season other side with earlier seasonings. Mix beefy dried onion soup packet with beef broth, add 1 tablespoon worchestshire sauce and pour over beef.

Cook on low for 5 hours and enjoy!