Submitted by Dale Sanders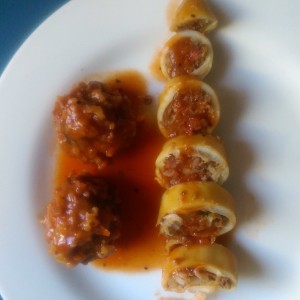 Stuffed Baby Squid
Ingredients
8 Baby squid, cleaned. Keep tentacles if using fresh caught

150g Mince, chicken, lamb or beef ok

1 Chorizo, not cooked

1 Onion

3 Tblspn of pitted and sliced black olives

1 Clove of garlic

1/3 cup parboiled rice (about 4-5 mins in microwave)

A selection any favourite spices in your pantry or fresh herbs

SAUCE/STOCK

1/3 Cup tomato paste

1 litre vegetable stock

Chilli paste to taste

2 Bay leaves

1 tspn Fennel seeds

1 tspn Coriander seeds

1 tspn Cracked black pepper
Instructions
Process chorizo in food processor until crumbled, place in a mixing bowl

Process onion and garlic until finely chopped, add to chorizo

Add mince, rice, olives and your favourite flavours to the bowl and mix by hand to get a great consistency.

Stuff the squid with the mince mixture and secure the top with a toothpick. * Do not overfill as the mix will expand a little*

Put all of the sauce ingredients into your slow cooker, stir to combine and add your squid.

Add any tentacles that you have and if you have any left over mince mixture make tablespoon size balls and roll in flour and add to the slow cooker.

Cook on low for 2.5 hours

Make sure the squid is just covered by the stock. Do not stir during cooking.

If your squid are different sizes, put the larger one's in the slow cooker 30 mins before the smaller ones but you can add the tentacles at the beginning.

You can add or exchange your favourite flavours, instead of onion try fresh fennel.