Submitted by Paulene Christie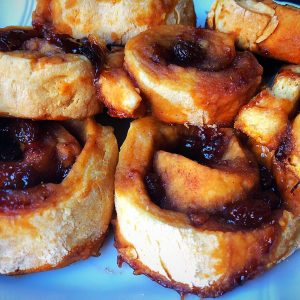 Strawberry and Sultana Sweet Scrolls
Ingredients
2 cups SR Flour

Pinch salt

75g melted butter

¾ cup milk (possible up to 1 cup)

300g strawberry jam

40g box sultanas

1-2 tsp cinnamon
Instructions
Line your slow cooker bowl with baking paper

Combine the flour, milk, butter and salt in a mixing bowl and stir until the dough just comes together, if it's too dry and crumbly, add an extra 1/4 cup of milk

Turn the dough out on a lightly floured bench and knead until smooth.

Roll out the dough into a 20 x 30xm rectangle using rolling pin.

Spread the jam over the dough, then scatter with sultanas and sprinkle with cinnamon.

Roll up the dough into a long cylinder.

Cut the roll into 8-10 slices with a sharp knife (they will look like snails when cut). If cutting flattens the scrolls or makes the jam ooze out, reshape them after cutting so they resemble snails.

Arrange the scrolls flat in a single layer, close together, in the slow cooker.

Cover, putting tea towel under the lid and cook on high for 1hr 45mins or until scrolls are cooked through. Some slow cookers may need and extra 15-30 mins.

Serve hot and fresh, or store in fridge and pack for lunchbox treats.