Submitted by Katrina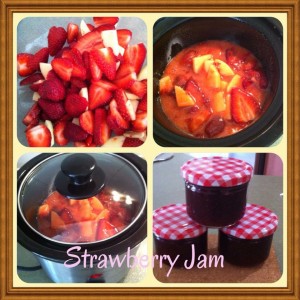 Strawberry Jam
Ingredients
2lbs strawberries hulled and sliced

4 cups sugar

1/4 cup lemon juice

1-1.75 oz box pectin or peeled and sliced medium apple
Instructions
Spray crockpot with cooking spray.

Smash or Mix all ingredients in a bowl until combined.

Add into pot, cover and cook on high 4hrs or low 8hrs approx, until berries are soft and jam is starting to thicken.

Blend if you like it less chunky.

Pour into jars (it will thicken more as it cools).