A dense strawberry cream cheese loaf cake 🙂
Submitted by Jane Galloway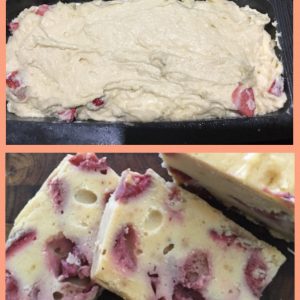 Strawberry Cream Cheese Loaf
A dense strawberry cream cheese loaf cake 🙂
Ingredients
1/2 cup softened butter

1 cup sugar

1 x 250gm cream cheese

2 eggs

1 teaspoon vanilla essence

2 cups self raising flour

Pinch of salt

1/2 cup of milk

1 1/2 cups chopped strawberries
Instructions
With an electric mixer cream butter, sugar and cream cheese until light and fluffy. Add eggs one at a time. Mix in vanilla.

In a seperate bowl mix flour and salt. Blend flour mix half at first than half of the milk, than add the rest of the flour mix and the milk, stir until combined.

Drain strawberries on paper towel and carefully fold into the mix. Mixture will be thick.

Grease and flour a loaf pan, place in slow cooker with tea towel under the lid. I cooked it on high for 4/5 hours.

This is a dense cake but I love how it turned out.

This recipe did call for 1/2 cup chopped pecan nuts, optional, but I'm not a nut eater so I left them out.