Submitted by Tanya Kingston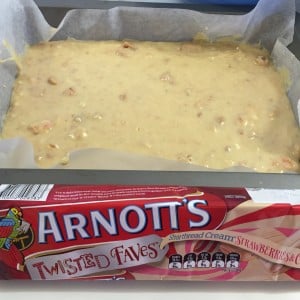 Strawberries and Cream Shortbread Fudge
Ingredients
1 tin Condensed Milk

400g White Chocolate

1 tsp Butter

1 tsp Vanilla Essence

2/3 pkt Arnotts Strawberries and Cream Shortbread Biscuits
Instructions
1. Add all ingredients except for biscuits to slow cooker and cook on low with lid off for 1-1.5 hours depending on your slow cooker, stirring occasionally. Cook until chocolate is melted and mixture starts to thicken.

2. Put biscuits in a zip lock bag and roughly crush them with a rolling pin (or something else hard and heavy).

3. When fudge is done, stir in biscuits. Pour into a baking paper lined tray. Once it has cooled slightly, finish setting in the fridge.