Submitted by Cheryle Baird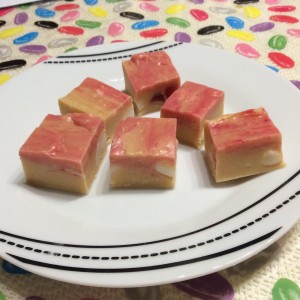 Strawberries and cream fudge
Ingredients
500 grams white chocolate

1 can condensed milk

1 tbs butter

1 pkt strawberry and cream lollies

1 tbs vanilla

2 tbs strawberry flavouring oil (available from Spotlight)

Red colour
Instructions
Put all ingredients except the oil and colour into slow cooker on high without lid.

Cook on high for approximately 30mins, stirring every 15 minutes until all melted together.

Add strawberry oil and mix through.

Continue to cook for an hour stirring every 15 mins.

Pour into a baking paper lined slice tin, pour some red colouring powder or liquid on top and swirl with a skewer,

Place in refrigerator until set or overnight.

Cut into bite size pieces, enjoy.