A quick and easy chicken recipe.
Submitted by Justin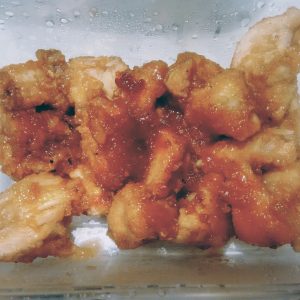 Sticky Plum Chicken
A quick and easy chicken recipe.
Ingredients
1kg Chicken Breasts

1 Jar Ayam Brand Plum Sauce 210ml

2 Tablespoons Hoisin Sauce

2 Tablespoons Light Soy Sauce

1 Teaspoon Minced Garlic

Cornflour for coating chicken

Oil for browning coated chicken
Instructions
Combine plum sauce, hoisin sauce, light soy sauce and minced garlic in a bowl and set aside

Cut chicken breasts in half, then into approx 2 to 2.5cm chunks.

Coat chicken in cornflour

Add oil to wok or pan and brown coated chicken in batches

Place chicken into slow cooker

Pour sauce over chicken and stir to coat chicken pieces.

Cover and cook on LOW for 2-3 hours

Serve with your choice of boiled rice, fried rice and/or vegetables

NOTE: This recipe does NOT produce a lot of juice, so I'd say do not overcook or else there is a risk the sauce will stick to bowl.

The plum flavour is tangier than the honey version, but still has a sweetness to it. I used Ayam brand sauce that was 210ml net, but any plum sauce can be substituted.

The final dish does not yield much sauce as the chicken is coated but not soaked. If you like your dishes saucier I'd suggest adding more plum sauce and/or some water to yield more juice.

Adapted from the Sticky Honey Chicken recipe submitted by Shaya. Thanks for the idea Shaya!