Sticky potato dish that uses white or sweet potato
Submitted by Karen Stuckings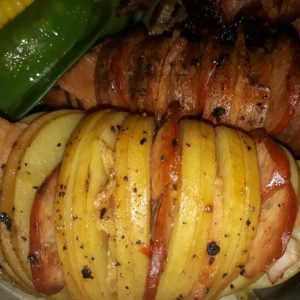 Sticky Hassleback Potatoes
Sticky potato dish that uses white or sweet potato
Ingredients
6 potatoes (these can be white or sweet potatoes or mixture)

1 chorizo thinly sliced

6 shortcut bacon slices cut into 6

1/4 cup golden syrup

1 tablespoon American mustard (or mustard to suit)

salt

pepper
Instructions
Put slits all along your potatoes without cutting all the way through (see notes).

In every 2nd slit alternate between chorizo slices and bacon.

Place stuffed potatoes into slow cooker.

In a bowl mix golden syrup and mustard, taste and adjust to suit your likes.

Spoon syrup mixture over potatoes.

Season with salt & pepper.

Cook on high 2 1/2 hours basting every 30 minutes.

— Notes

Sit your potato between 2 wooden spoons when doing slits, this is your guide so you don't cut all the way.

The more slits you have the more flexible your potato will be.

Do not overload your potatoes to avoid breaking, this is why only every 2nd slit is used. Needs to be cooked on high to get the colour and for it to become sticky, you don't get same results cooking on low. Basting gives you the even colour.

Cooked in Breville 7L, times vary per slow cooker.