Submitted by Toni-maree Cook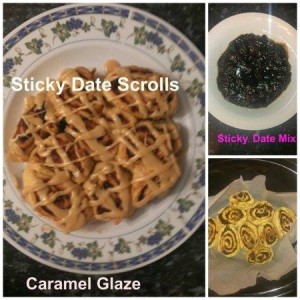 Sticky Date Scrolls with Caramel Glaze
Ingredients
Sticky Date Mixture
1 Cup chopped pitted Dates

(I use scissors cut in half then half again)

3 Tbsp. of Margarine or Butter

¾ Cup Water

¼ tsp Bi Carb Soda
Dough
2 Cups S/R Flour

3 Tbsp. Melted Margarine or Butter

1 Cup of Milk
Caramel Glaze
2 Tbsp. Butter

¼ Cup Brown sugar

2 Tbsp. Milk

½ Tsp Vanilla essence

3 tbs. icing sugar
Instructions
Sticky Date Mixture:

On the stove top place all ingredients

into a saucepan and bring to the boil.

A brown foam will form, stir continually

for a few seconds then once thick

remove from heat and let cool.

~*~*~*~*~*~*~*~*~*~*~*~*~*~*~*~*~*~*~*~*~*~*~*~**~

Dough:

Melt the butter

*Pour in butter and milk into the flour combine

with a Butter knife to form a dough.

Knead for a few seconds.

* Roll out on a floured bench into a 20cm x 30 cm rectangle.

Place the baking paper into the slow cooker.

* Spread pastry with the Sticky Date mixture roll to form a Log

Slice 3cm slices from the log and place on baking paper.

Place a Tea Towel under the Lid.

Cook on high for 2 hours. Once cooked let cool for 10 min before adding the glaze.

~*~*~*~*~*~*~*~*~*~*~**~*~*~*~*~*~*~*~*~*~*~*~*~**~*~*~**~*~*~*~*~*~**~

Caramel Glaze:

Place butter and milk in a medium-size microwave-safe bowl.

Cover with a paper towel and cook on high power for 1 minute.

Add brown sugar and stir to combine.

Return to microwave and cook for another minute.

Take a tiny taste to make sure mixture is not grainy.

If there is any graininess, return to microwave for another 30 seconds.

Add vanilla essence and icing sugar and stir till smooth.

Icing should be fairly thick but "drizzlable". If it's too thick, add a bit more milk.

If too thin add a bit more icing sugar.

Drizzle over Scrolls.