Submitted by Amanda Kenwright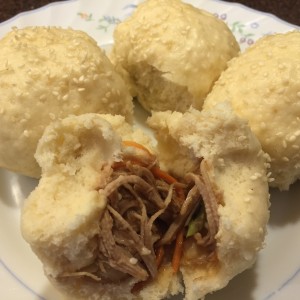 Steamed pork buns
Ingredients
pork roast

Fresh shredded stir fry veg

Honey, soy and garlic marinade

500g self raising flour

400ml milk

Dash of salt

Sesame seeds
Instructions
Place pork roast in slow cooker (nothing else needed with it at this stage) and cook on low for 8 hours. When done, shred pork and allow to cool (I used leftover slow cooked roast pork)

Add the marinade and stir fry veg to the shredded pork and mix it.

In a food processor add the flour, milk and salt and process until a dough forms. Remove the dough to a floured surface and knead a bit, before cutting into 12 equal portions.

Get a bamboo steamer and line with baking paper, poking holes in the paper with a skewer. Set a half full pot of water to boil.

Flatten a dough portion out and fill with pork mixture. Wrap dough all around it to form a ball. Place the ball into the steamer. Do this for remaining dough portions.

Place the steamer over the saucepan (water should not touch the steamer) and steam for 15-20 mins.

Once cooked, dough will be firm to touch. While still moist, sprinkle with sesame seeds.

Serve with a dipping sauce if required.