Submitted by Rachelle Roberts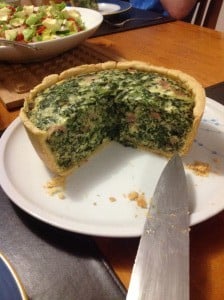 Spinach and Bacon Pie
Ingredients
Crust
1 2/3 cups (250g) plain flour

125g unsalted butter, chilled, cut into small pieces

1 egg, separated (save the white to use in the filling with other eggs)
Filling
1 tablespoon vegetable oil

1 onion, chopped

2 full rashers of bacon roughly diced

2 (10 ounce) packages frozen chopped spinach, thawed and drained

8 eggs, beaten

3 cups shredded cheese (tasty and Parmesan)

Salt and ground black pepper to taste.
Instructions
Lightly grease the slow cooker bowl.
Pastry
Place the flour and butter in a food processor and process until the mixture resembles fine breadcrumbs.

Add egg yolk and 2 tablespoons of chilled water

Process again until the mixture comes together in a smooth ball.

Press into the base and sides of the slow cooker bowl until uniform in thickness.

Turn the slow cooker on high and place a clean tea towel under the lid to prevent condensation.

Cook for 30 minutes.
Filling
Heat oil in a large skillet over medium-high heat.

Add onions and bacon and cook

Stir occasionally until onions are soft.

Stir in spinach

Continue cooking until excess moisture has evaporated.

In a large bowl, combine eggs, cheese, salt and pepper

Add hot spinach mixture and stir to blend.

After the crust has cooked for 30mins pour in the prepared filling

Cover again with a tea towel under the lid.

Cook for a further 1.5-2hrs on high until set.
note
To remove pie from the slow cooker carefully upturn it into a tea towel, (I needed 2 people to do this because the pot is still very hot and heavy) place a plate onto the base and flip it over again to be right side up.

Serve and enjoy.