Submitted by Sharon King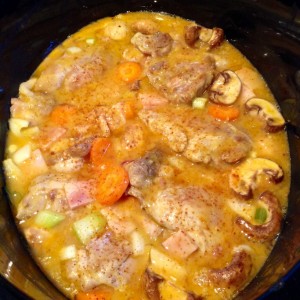 Spicy Thigh Casserole
Ingredients
1kg chicken thigh, browned

420g tin cream of chicken soup

175g diced bacon

1 medium onion, chopped

2 small carrots, sliced

200g mushrooms, halved

1 shallot, sliced

250ml chicken stock

1 tbpn mustard

2 tsp crushed garlic

1/2 tsp chilli powder

2 tsp honey

1/2 curry powder

2 tsp Worcestershire sauce

Large pinch ground black pepper

Pinch salt

Sprinkle cayenne pepper

Cook on low for 6 hrs

Remove lid to thicken 30 mins before serving.

Stir in 1 Tbpn sour cream before serving.

Serve with mash and green veggies.
Instructions
Brown thigh fillets, whole, and set aside.

Add all ingredients except sour cream to slow cooker and mix well.

Place fillets on sauce and gently coat with the sauce.

Cook on low for 6 hours.

Remove lid 30 mins prior to serving, to thicken slightly.

Stir in sour cream prior to serving.