Submitted by Kimm Blake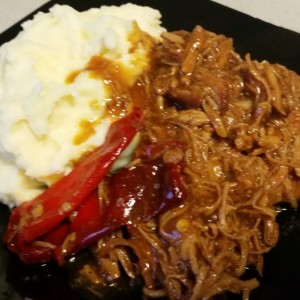 Spicy Pulled Chicken
Ingredients
3 Large Breast Chicken

1/4 cup Extra Virgin Olive Oil

1/4 cup Soy Sauce

1/4 cup Bbq Sauce

1-2 Tablespoons of the following

-Garlic

-Thyme

-Ginger

-Cummin

-Turmeric

1/4 cup of Honey or Brown sugar

Salt and Pepper

Then Add in 1-2 Whole chillis depending on how hot you like it. Chilli is optional.
Instructions
Place breast chicken in your slow cooker. Mix all wet and dry ingredients in a mug and pour ontop of chicken. Place chillis in whole pop the lid on slow cooker and turn on high. After about 3hrs shred your chicken using 2 forks and leave for an extra hour or two until you are happy with the sauce. Done!! Enjoy!

Chillis are completely optional and you can add in or take away ingredients you like or don't like and it will still taste amazing. If you are taking away one of the liquid ingredients you may want to substitute with water or stock so you have enough liquid. I cooked this in my 1.5L but can easily be done in any size.