Submitted by Denise Roberts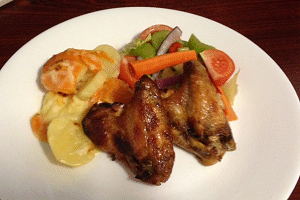 Spicy Orange Bat Wings
Ingredients
1 Cup Orange Marmalade

1/2 Cup Lime Juice

1 TBL Tabasco Sauce (Hot Sauce)

1 Clove Garlic (Crushed)

1 tsp Salt

12 Chicken Wings (Wing tips removed)
Instructions
Add marmalade, lime juice, sauce, garlic and salt to a bowl and mix until smooth.

Add chicken and 1/2 the sauce to the slow cooker and toss until coated.

Cook for 2 hrs on low and then turn wings over and coat with 1/2 of the left over sauce. (At this point you may want to drain the excess liquid from the slow cooker. Optional)

Cook for another 1 & 1/2 hrs on low.

Remove wings from slow cooker and place them on a greased baking tray, coating in the last of the sauce. Cook in hot oven until brown and starting to crisp.

Remove from oven once browned and serve.

* Adjust the sauce to suit your pallet. Add more for a hotter sauce.