Submitted by Robyn Clark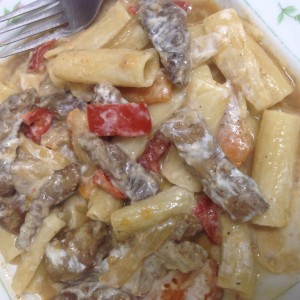 Spicy Beef with Sweet Potatoes.
Ingredients
1 kg stewing steak( sliced how you like it)

1 onion chopped

1 cup hot water , add a beef stock cube.

2 teaspoons minced garlic

1 medium sized sweet potato , thinly sliced

1/2 diced red capsicum

Chilli powder ( to your own taste, I added a teaspoon)

1/3 cup Hoisin sauce

Greek yoghurt

Pasta ( I used large penne)
Instructions
Fry the onion , chilli and garlic and add to the SC.

Add the meat , sweet potato,capsicum,water and hoisin sauce . Slow Cook on high about 2 hours or until meat is tender.

Cook the pasta and add to the dish just before serving.

Drizzle the Greek yoghurt over the meat ( can use sour cream ).