Submitted by Kylie Smith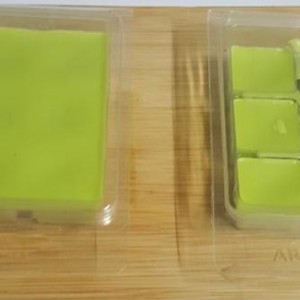 Soy wax melts
Ingredients
120g ecosoya PB wax flakes

Roughly 6-8 shavings of lime green dye block ( I grated it on a fine zester and also used proper candle dye.. not food colouring)

12mls of fragrance oil of choice which mine was 'alien' (hence the reason it's green)

Mould

Candy thermometer
Instructions
Heat water in slow cooker

(I used a 1.5l on high)

Weigh up wax and add colour

Place in a durable device. Something that won't melt. I used a Pyrex jug because it has the pouring spout.. I also considered a stainless steel milk jug

Put in water uncovered for approx 4 hours or until the wax reaches temp of 65°C (measured with a candy thermometer).

Add fragrance and when wax cools slightly as it will drop in temp when the smell is added, pour into a 6 pocket clam shell moulds and let set for 24 to 48hr before sealing.
PLEASE NOTE
Not all waxes have the same melt and pour point and some fragrances also use a different fragrance:wax ratio.

I used 10% fragrance to wax as when I bought them that's what the instructions were.