Submitted by Simon Christie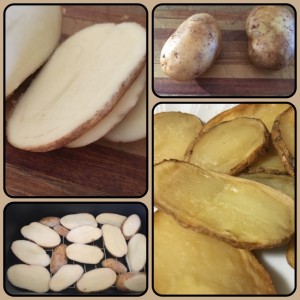 Slow roasted potato slices
Ingredients
Two medium potatoes.

Spray oil or olive oil for brushing
Instructions
Turn cooker on HIGH

Wash potatoes to remove any contaminants

Slice thinly (approximately 1/2cm... 1/4in)

Spray/olive oil both sides

Place ON TRIVET not overlapping.

Place lid on with TEA TOWEL on HIGH for two hours.

Release moisture as you pass by lifting lid momentarily

EXCHANGE TEA TOWEL AFTER TWO HOURS

Cook for a further 2-3 hours on HIGH.
times depend on preference to crisp
important to change tea towel
Season how you see fit for your family.

I seasoned with pepper and chicken salt but honestly these would be awesome straight up