Are you wanting to try chicken in your slow cooker?
Here's everything you need to know to get started 🙂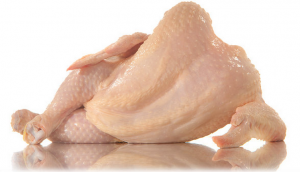 What cut of chicken can be slow cooked…
The short answer is any kind!
– whole chickens
– drumsticks
– wings
– marylands
– breast fillets
– thigh fillets
– diced chicken
– even chicken mince
When using chicken fillets my personal choice is always thigh fillets over breast fillets.  I find they stay much more moist when slow cooked than the breast fillets. But both are of course ok to use 🙂
Before slow cooking with chicken DEFROST FIRST …
Always, ALWAYS defrost your chicken first in a safe manner.  Doing so in the fridge for 24hrs is the safest way to do so.
However you like to usually defrost your meat is fine, just don't be tempted to follow those who give dangerous advice to slow cook frozen chicken!  Here's why >> Slow Cooking Frozen Meat – It's NOT safe!!
Do I need to brown my chicken first …
Totally up to you.
While chicken is meant to be slow cooked from raw, many do like to just brown or sear it first.
This can help to lock in moisture, speed up cooking time or simply to improve visual appearance of the finished dish.
Keep in mind that chicken will release a lot of liquid during cooking.  Browning and draining liquids before slow cooking can help this issue too.
Many, like me, slow cook for convenience.  Having to pre cook before slow cooking can take away from this convenience.
However with the introduction of searing slow cookers that allow you to sear/brown in the actual slow cooker itself, this avoids the need for extra dishes and mess, so browning first can now be more desirable for some.
If however you do choose to slow cook yours from raw that's OK.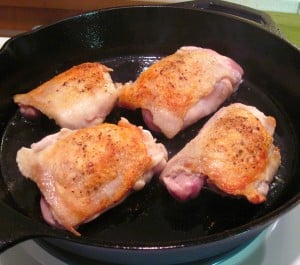 What's a general guide to cooking times needed for different cuts of chicken?
Breast – 2-3hrs low
Thigh fillets – 3-4hrs low
Wings – 4hrs low
Bone in chicken pieces like drumsticks and thigh cutlets etc – 4-5hrs low
Whole chicken – 6hrs low
Where do I find the recipes to get started …
Finding recipes is super easy on our website.
There are several options of how to do so 🙂
Go direct to our CHICKEN RECIPES
From here you can browse to your hearts content (as you scroll down more and more recipes will load – we have 100's)
You can also use the search box to further define your search
– search for a chicken recipe by name eg apricot chicken
– search for a recipe type eg 'whole chicken' or 'roast chicken'
– write the chicken type in the search box to bring up recipes that use that specific cut eg 'drumsticks' or 'chicken breast'
You can of course also try you own family favourite chicken recipe in your slow cooker.
And if you are cooking a whole chicken in your slow cooker we have a special blog written all about this topic with all you need to know here >> Slow Cooking Whole Chickens
***WINNER WINNER CHICKEN DINNER***
Enjoy 🙂