Submitted by Porcelain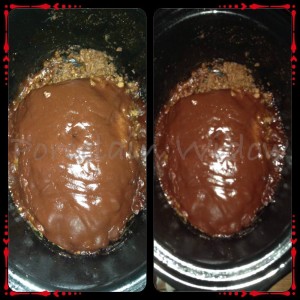 Slow Cooker Turkey Meat Loaf
Ingredients
3 eggs

3/4 cup milk

3 cup seasoned bread crumbs

2 teaspoons ground onion

2 teaspoon salt

3 pounds ground turkey

2 cups ketchup

2 cups bbq sauce

3 tablespoons brown sugar

2 teaspoons honey mustard

3 teaspoon Worcestershire sauce
Instructions
Combine eggs, milk, bread crumbs, onion, and salt in a large bowl.

Crumble ground turkey over mixture and stir well to combine.

Shape into a round loaf; place in slow cooker.

Cover and cook on Low 5 to 6 hours. Or until a meat thermometer reads 160 degrees F (71 degrees C)

Halfway through cooking you should drain the grease, or add potatoes to soak it up. (I made this without potatoes will be trying it with potatoes next time.)

Whisk ketchup, bbq sauce, brown sugar, mustard, and Worcestershire sauce in a small bowl; pour sauce over meat loaf. Return to slow cooker and cook on Low until heated through, about 15 minutes. Let stand 10 minutes before cutting.