Submitted by Lynette Drohomyretskyy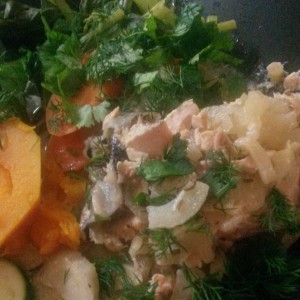 Slow Cooker Salmon and Fennel
Ingredients
2 salmon steaks

1 fennel bulb, sliced

1tsp fennel seeds

Salt & pepper

1/2 cup white wine

1/2 cup fish stock

1/2 cup sour cream
Instructions
Place fennel and salmon in slow cooker. On stovetop, bring wine, stock, cream and fennel seeds to boil. Boil until reduced by half then pour over salmon. Mine was done in 1 1/2 hours in my small slow cooker.

I have also tried a quick version of this recipe by simply placing all ingredients straight in slow cooker and cooking a bit longer. It was nice but I think reducing the sauce first and cooking the fish faster was better.

Adapted to suit SC by a recipe from Sally Fallon's Nourishing Traditions Cookbook.