Cottage Pie from scratch. My Mum's recipe that I have adapted for the Slow Cooker.
Submitted by Melissa McClelland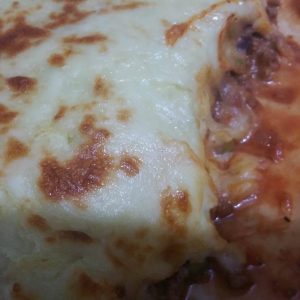 Slow Cooker Cottage Pie
Cottage Pie from scratch. My Mum's recipe that I have adapted for the Slow Cooker.
Ingredients
MEAT SAUCE
3 medium onions

4 cloves garlic

1kg beef mince

4 cans tomatoes diced

6 tbsp. tomato paste

2 tsp oregano and thyme

1 tsp ground cumin

2 grated carrot

2 grated zucchini

12 mushrooms

2 cup frozen peas

Salt and pepper

2 can kidney beans
MASH
10-12 potatoes (depending on size)

3-4 tbls butter to suit taste

1/2 milk

salt & pepper

handful of grated cheese to melt on top
Instructions
(Please Note: You can decide if you like to brown mince or not. I like to so this is how I do it. If you don't just add all ingredients to slow cooker except kidney beans till last hour.)

1. Add potatoes to slow cooker and cook on high for 3-4 hours or low for 6 hours.

2. In a frypan, fry onion and garlic for 1-2 minutes, add mince and brown.

3. Add can tomatoes and paste, add all herbs, add vegies, salt and pepper and water.

4. Transfer to slow cooker and cook on low for 6 hours or high for 3 hours depending on how hot your slow cooker cooks, you may need longer or shorter cooking time. Add kidney beans in the last hour so they don't go too mushy.

5. Drain and return potatoes to slow cooker bowl. Mash potatoes with masher, add butter and mash thru. Add salt and pepper and milk, use a whisk to mix milk thru and fluff up the mash.

6. Scoop mash over Meat in other slow cooker, use back of spoon to smooth out to cover whole dish.

7. Sprinkle grated cheese over top and replace lid and continue heating until cheese has melted, took 10 minutes for my slow cooker.