Submitted by Julie Goodman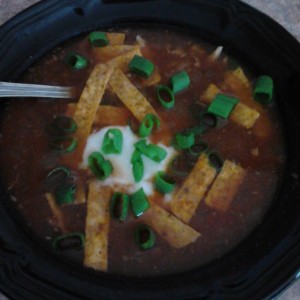 Slow Cooker Chicken Tortilla Soup
Ingredients
1 pound ( 454 g ) boneless, skinless chicken breasts

1 can ( 28oz/796ml ) diced tomatoes

1/2 cup chopped onion

1 oz finely chopped green thai chili peppers

3 cloves garlic, minced

1 carton ( 900 ml ) chicken broth

1 tablespoon ground cumin

1 tablespoon chili powder

1/2 teaspoon black pepper

1 whole bay leaf

10 oz frozen corn

1/2 black beans, rinsed and drained
Instructions
Combine all ingredients ( except chicken )in slow cooker, stir to mix well. Submerge chicken breasts so they are covered in the liquid.

Cover and cook High for 4-6 hours OR Low 6-8 hours

Remove chicken breasts, shred, return to cooker and mix through.

Serve garnished with your choice of sour cream, fresh chopped chives, grated cheese, sliced avocado, or baked tortilla strips.