Submitted by Danielle Atkinson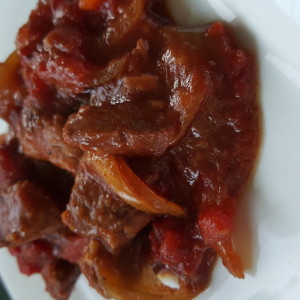 Slow Cooked Venison
Ingredients
500g diced venison

1/4 C flour

pinch of salt

pinch of ground black pepper

1 tbsp olive oil

2 tbsp Worcestershire sauce

3 tbsp cranberry sauce

1 tsp minced garlic

1/4 C of your favourite BBQ sauce

2 tbsp soy sauce

1 brown onion sliced

1 can of diced tomatoes
Instructions
Coat the venison with flour, salt and pepper.

Heat oil in a pan and brown off the venison.

Put into slow cooker.

Mix the Worcestershire sauce, cranberry sauce, minced garlic, soy sauce, BBQ sauce pour on top of the venison.

Add tomatoes and onion.

Stir. Cook on low for 8 hours.

Serve with creamy mashed potatoes, kumara and garlic mash or rice.

Our family favourite is to put the mixture into pies.