Melt in your mouth roast chicken with the most AMAZING gravy
Submitted by Jarah King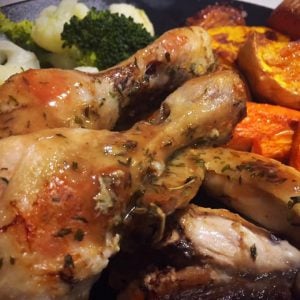 Slow Cooked Roast Chicken Drumsticks with Gravy
Melt in your mouth roast chicken with the most AMAZING gravy
Ingredients
1kg chicken drumsticks

3tsp Dijon mustard

3tsp garlic

1tsp thyme

1tsp rosemary

1tsp parsley

1/2 cup chicken stock

Season with salt and pepper

Your favourite gravy powder (I like using gravox roast meat)
Instructions
Rub chicken with herbs and spices and place into the slow cooker.

Add the chicken stock and cook on low for 4 hours.

At the 3 1/2 hour mark preheat oven to 200 deg.

When the chicken has been cooked for the entire 4 hours place on an oven tray and put in the oven for 10 minutes to brown.

With the stock in the slow cooker add 3-4 tbs of your favourite gravy and whisk until all lumps are out and leave to thicken.