Submitted by Lesley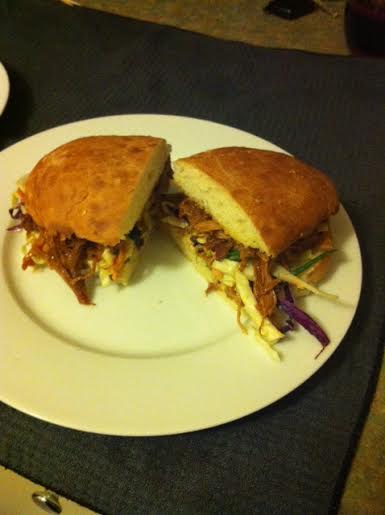 Slow Cooked Pulled Pork Sandwiches
Ingredients
1 2 1/2 pound pork sirloin roast or boneless pork shoulder roast

1/2 cup water

3 tablespoons cider vinegar

2 tablespoons Worcestershire sauce

1 teaspoon ground cumin or chili powder

3-1/2 cups purchased barbecue sauce

10 kaiser rolls or hamburger buns, split
Instructions
Season meat with salt and pepper.

In a small bowl, combine the water, vinegar, Worcestershire sauce, and cumin.

Pour over meat in slow cooker.

Cover and cook on HIGH for 1 hour

Cook on LOW for a further 8 hours.

Remove roast from cooker (Discard cooking liquid)

Using two forks, pull meat apart into coarse shreds (Discard fat)

Return meat to slow cooker.

Stir in barbecue sauce.

Cover and cook on HIGH for 30 minutes or until heated through.

Serve meat mixture in rolls.

As this is a sweet meat sandwich, I added crunchy coleslaw to the rolls. It was a huge success & there was plenty left over to freeze.