Crispy skin pork belly what more can I say … apart from YUM!
Submitted by Jarrah King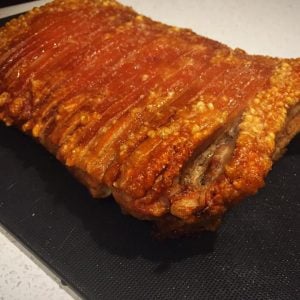 Slow cooked pork belly
Crispy skin pork belly what more can I say ... apart from YUM!
Ingredients
1x pork belly

1/4 cup chicken stock

1tbs oil

Salt
Instructions
Leave your pork belly in the fridge uncovered for at least an hour. (This helps to get the skin nice and crispy)

Rub the skin with oil and a generous amount of salt.

Pour the stock into the slow cooker and then carefully sit the pork belly on top.

Close the lid and slow cook for 4 hours on low.

At the 3 1/2 hour mark turn your oven on to Maximum heat (approx 240 fan forced)

When your pork has been cooking for the full 4 hours take it out of the slow cooker and transfer it onto an oven tray rub a little more oil into the skin and more salt then place into your oven and cook until it's nice and crispy this took 25 mins for mine.

Please read my notes on how to use the lovely stock left in your slow cooker for apple sauce and pork gravy.
Apple sauce
With the stock that's in your slow cooker reserve about 6 tablespoons for your Apple sauce (if your making it) it helps take out some of the sweetness. I used a jar of apple sauce poured it into a saucepan and added 1tsp butter, salt, pepper, stock and a pinch of thyme and it was perfect.
Pork gravy
With the remainder of the stock leave it in your slow cooker but turn your slow cooker onto high.

In a cup put two tablespoons of your favourite gravy powder (I used roast meat flavoured gravox powder) then add 1 cup of boiling water. Mix well then pour it into your slow cooker. Add one more tablespoon of powder directly to the slow cooker and give it another good mix.

Pop the lid on and leave for at least 10-15 minutes. I got the gravy ready before I put my pork into the oven and it was perfect by the time my pork was ready to come out.