Submitted by Allie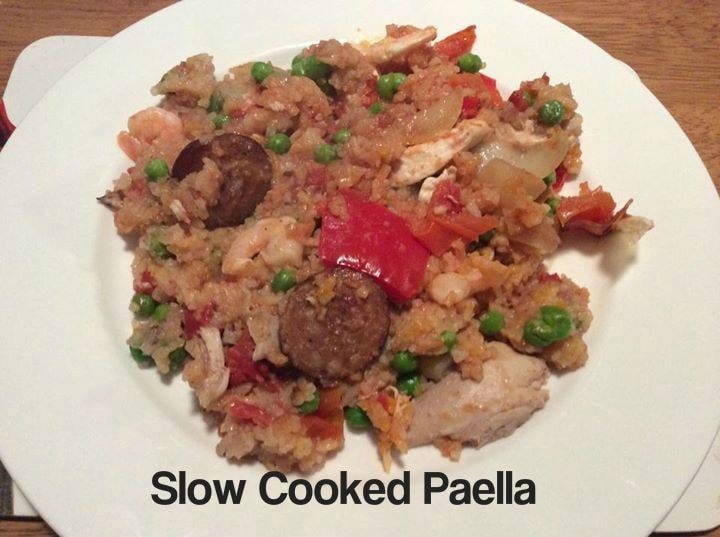 Slow Cooked Paella
Ingredients
500 gm Chicken Thighs

125 gm Chorizo Sausage, sliced

250 gm Prawns

1/2 cup Arborio Rice

1 cup Chicken Stock

1/2 cup of White Wine

2 tablespoon Tomato Paste

1 Onion, sliced

1 Red Capsicum, chopped

1 clove Garlic, minced

1/4 teaspoon Saffron Threads

1 teaspoon Smoked Paprika

1/2 teaspoon Cayenne Pepper, more if you like it spicy

1/4 teaspoon Salt

2 teaspoons of Parsley

Lemon wedges and Spring Onion to garnish
Instructions
1. Stir Saffron into chicken stock and let stand for 10 minutes

2. Brown Chorizo in frypan for 5 minutes

3. Combine Chicken, Chorizo, Onion, Capsicum, Garlic, Paprika, Cayenne Pepper and Salt.

4. Stir in Saffron Stock, Wine and Tomato Paste Cook on LOW for 6 hours.

5. Chicken juices should run clear when pierced and vegetables should be tender.

6. Stir in Rice and cook, covered on high until rice is tender and almost no liquid remains, about 15 to 20 minutes.

7. Stir in Parsley and serve with Lemon wedges and Spring Onion garnish.