Soft and tender lamb shoulder with a rich, thick gravy perfect for a winters night
Submitted by Courtney Murray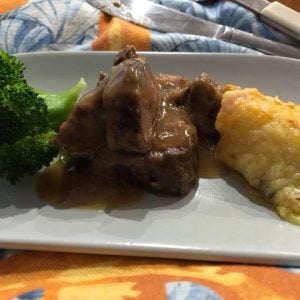 Slow cooked lamb shoulder with rich gravy
Soft and tender lamb shoulder with a rich, thick gravy perfect for a winters night
Ingredients
650-700g boneless rolled lamb shoulder

Heaped teaspoon minced garlic

Teaspoon of paprika

Salt to taste

Pepper to taste

Teaspoon of chicken stock powder

Tbs worceshershire sauce

Tbs olive oil

1/2tbs vege stock in half cup of hot water

Tbs pepper gravy power

Tbs roast meat gravy powder

Tsp cornflour
Instructions
Put garlic, salt, pepper, paprika, chicken stock powder, worcestershire sauce and olive oil in a bowl and combine to make a paste

Add lamb shoulder to bowl and coat with paste mix, then place into slow cooker bowl (i used a 3.5L for this one)

Pour vege stock and water mix into bottom of slow cooker

Cook on low for 6 hours.

After 6 hours, mix together pepper and roast meat gravy powders with cornflour and aprox 1 cup of boiling water. Once combined pour into slow cooker and stir into the water mix. Cook for further 30mins-1hour until thick and rich. If too thick add a little more water to grt desired gravy consistency.

To serve, slice meat and then pour gravy over the top.

I served with steamed broccoli and sweet potato bake

Can use a larger piece of shoulder as the paste mix is quite generous. Cooking time may vary for larger pieces (up to 8 hours on low).