Submitted by Bryan R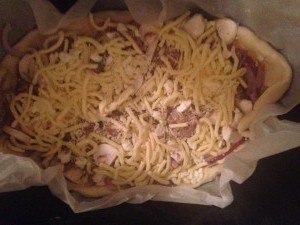 Slow cooked Lamb Pizza
Ingredients
1kg leg of lamb

3 gloves of garlic (crushed)

3 sticks of rosemary (chopped)

Olive oil

1 cup of beef stock

Salt

Pepper

260ml water

3 cups flour

1 tsp. yeast

+ Your desired pizza toppings (cheese, pine nuts, onion, mushroom ect.)
Instructions
Place lamb in slow cooker rub in some oil, use 2 cloves of garlic and 2 sticks of rosemary and coat the lamb add one cup of beef stock add salt and pepper. Put on low for 8 hours high for 4 (recommend low will help the juices come out)

Mix water, flour, yeast, 1 clove of crushed garlic and 1 stick of finely chopped rosemary into a large bowl and kneed into dough, cover with cling wrap and place in a warm spot for roughly an hour until dough has risen to double the size (roughly) or use a bread maker like I did.

After lamb has been cooked shred with a fork. Keeping the juices to use as a base sauce, roll out the dough to the size of your slow cooker and place dough into baking paper then into your slow cooker. Cover with the thickened juices form earlier, lamb + your additional desired toppings. Place a tea towel under the lid and put on high for roughly 2 hours or until its cooked though the dough.