Submitted by Bonita Fuller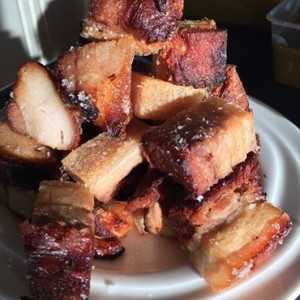 Slow Cooked Crispy Pork Belly
Ingredients
1 piece of pork belly

1 can or bottle of pear cider (or apple if you wish)

2 onions, thickly sliced

sea salt flakes
Instructions
Pour cider into a large container and place pork belly on top. Place in fridge for 12-24 hours.

Place onions into base of slow cooker (mine was 6L) and put pork belly on top. Pour cider in being careful not to get any on the rind.

Cook on low for 8 hours.

Place pork into a container for 8-12 hours in the fridge and then cut into bite sized pieces.

Deep fry in hot oil (around 180deg Celsius) until crispy, around 1-2 minutes.

Sprinkle with sea salt while still hot and serve.