Submitted by Laura Ivaniva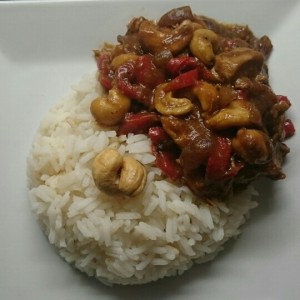 Slow Cooked Chicken With Cashew Nuts
Ingredients
1kg of chicken breast

1/2 cup of unsalted cashew nuts

1/2 a Teaspoon of chilli flakes

3 tablespoons of rice wine vinegar

1/4 cup soy sauce

1/2 teaspoon of fresh grated ginger

1 1/2 tablespoons crushed garlic

1/4 cup of plain flour

1 table spoon of brown sugar

1/2 teaspoon of black pepper

1 red capsicum

1 red onion
Instructions
Cut up chicken into thick strips.

Place chicken strips into a bag or bowl add flour and pepper shake or mix until chicken is coated.

Pop the chicken into a pan with some oil and cook it until the outside is golden. (doesn't need to be cooked through)

Place chicken into slow cooker, add all of the other ingredients and give it a good mix. I then added about 1 cup of water, mixed it again and turned on at low heat.

I mixed it about once or twice per hour for approximately 5 hours adding water throughout the day as we like a nice sauce with our food.

About an hour before you are ready to serve chop up one red capsicum and one red onion, lightly cook in a frying pan then added to the slow cooker.

Right before I served it up I added the cashew nuts and that was it!!

You can obviously change this and add some extra vegetables but as the dish already had a lot of flavour I wanted to keep it simple.

Enjoy!!