Submitted by Robyn Clark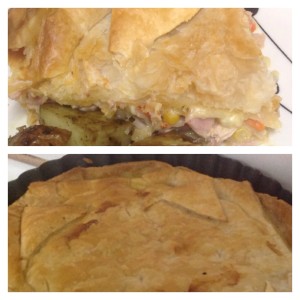 Slow Cooked Chicken Pie Filling
Ingredients
1 -2 teaspoons minced garlic.

1 diced onion

3 rashers bacon , diced

1 Sachet of soup mix, ( I used chinese chicken and corn)

1 tub cottage cheese

1/4 teaspoon each of paprika and chilli ( optional)

Grated cheese

Cornflour to thicken if needed.

1 cup mixed vegetables ( whatever veges you like )

500 - 800 g chicken ( cut into cube size)
Instructions
Fry off the garlic, bacon , onion and mixed vegetables.Add to your SC .

Add in the sachet of soup mix .

Mix in the tub of cottage cheese and the paprika and chilli powder .

Add the cubed chicken and SC for a few hours on low or an hour and half to two hours on high.

Thicken with a little cornflour if needed.

Place in a pastry case , top with grated cheese. ( I used a sheet of short crust on the bottom and a sheet of puff on the top) .Brush the top with milk or egg. Bake until pastry is brown.