Submitted by Hayley Masters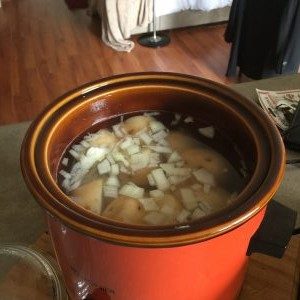 Slow cook mashed potatoes
Ingredients
8 potatoes cut into halves, leave the skin on.

1 diced onion

A small handful of sea salt crystals.

1/4 cup of fresh cream

1/4 cup of milk

60gms of real butter
Instructions
Put spuds and onion in the SC and cover in water and cook on high for at least 6 hours.

Drain the spuds, set into a bowl and cover with icy water. Put the cooked onion back in the SC and turn to low.

Make a small slice in the skin with a knife and the peel comes off in seconds.

Add back to the SC and mash to break them down.

Add real butter, fresh cream and a little milk - and more salt.

Let them heat a little then beat the hell out of them. Worked like a dream.