Submitted by Hayley Masters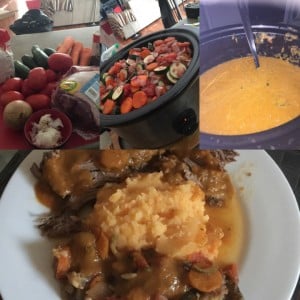 Slow cook leg of lamb
Ingredients
Leg of lamb

8 over ripe tomatoes

4 large carrots, cut to circles

4 large zucchinis, cut to circles

2 large brown onions, roughly diced

500ml red wine, more or less as to taste

3 large cloves of garlic, crushed

Salt and pepper

Plain flour

Olive oil

Tin of tomatoes if required
Instructions
Cut an X in the top and bottom of each tomato. Place in a large pan and boil until you can peel the skin off, then chop or mash roughly.

Season flour with salt and pepper and lightly coat the lamb.

In a hot pan, add the oil then sear the lamb until lightly browned.

Put lamb in SC.

In the same pan, deglaze the pan with a splash of red wine, scraping all the browned lamb from the bottom.

Add the onion and garlic and cook until soft and translucent.

Add the carrots, zucchinis and tomatoes to pan. Pour in the rest of the wine. - This is where you can use that extra tin of tomatoes instead of all the red wine for the sauce. Simmer for 10 mins

Pour over lamb. Put SC on low and cook for around 8-9 hours.

Remove the lamb, and a serve of the veggies to be eaten with the lamb.

Blitz the rest of the veg and juices to make a gravy.

I serve with sweet potato, potato and onion mash, the cooked veg and fresh bread.