Submitted by Rozi Pottsy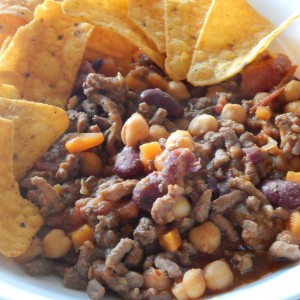 Slaptogether Chilli Con Carne
Ingredients
500g mince

1 carrot finely chopped

1 clove garlic (grated)

2 tomatoes chopped

1 300g jar Mild Salsa Dip

1 x 400g can (salt reduced) chick peas drained & washed

1 x 400g can red kidney beans drained & washed

1/2 cup water
Spices
1 teaspoon chili flakes

1 teaspoon ground cumin

1 teaspoon cinnamon

1 teaspoon paprika

1/4 teaspoon black pepper

Salt to taste
Instructions
Pre- brown mince and drain off fat.

Pour meat into slow cooker.

In a separate bowl, mix carrot,garlic,tomatoes, salsa, chick peas, red kidney beans and water together and stir.

In a smaller bowl add all the spices, mix them together and then stir them into the above mixture.

Pour all the ingredients on top of the mince

Cook on High for 3 hours
Notes
I cooked this in a 3 ltre Breville Meal Maker and stirred it twice during the cooking time.

Prebrowning the mince is personal choice and onion would also be lovely added in.

I served this with corn chips, greek yoghurt and a squeeze of lime over the top.

It would also be lovely served with rice and naan bread.