Submitted by Mel Pronk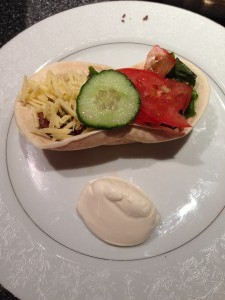 Shredded Beef Tacos
Ingredients
1 (2.5 lb) chuck roast (I used blade steak)

1 (14 oz) can beef broth (I used 2 stock cubes in about 300ml boiled water)

1 1/2 Tablespoons chili powder (I used 2 level teaspoons as I have a small child)

1/2 Tablespoon ground cumin

1/2 Tablespoon onion powder (I used 1 onion cut small pieces)

1 teaspoon garlic powder

1 teaspoon salt

1/4 teaspoon pepper

Juice of 1 Lime
Instructions
Spray crock pot with cooking spray.

Place roast inside crock pot.

Pour the beef broth over the roast and then squeeze with fresh lime juice.

In a small bowl, whisk together chili powder, cumin, onion powder, garlic powder, salt and pepper.

Sprinkle the roast with the spice mixture.

Cover with lid, and cook on Low heat 8 to 10 hours, or on High heat 5 to 6 hours.

Remove roast from crock pot and transfer to a large platter.

Shred meat and remove any fat.

Return shredded beef to crock pot.

Cover with lid and cook an additional 30 minutes.

Remove beef with tongs to drain juices before serving in tortillas.

Serve with desired toppings.
Serving suggestion
Warm flour or corn tortillas (I used tortilla stand 'n stuff)

Shredded lettuce

Cheddar cheese, shredded

Diced tomato

Guacamole

Sour Cream

Salsa