Simply sensational!
The cream cheese, spinach and apricot filling gives the perfect creamy yet sweet addition to the chicken 🙂
Submitted by Paulene Christie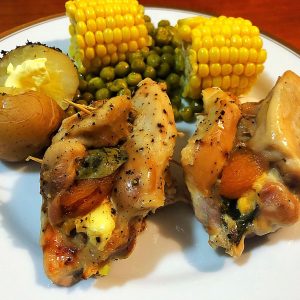 Sensational Stuffed Chicken
Simply sensational! The cream cheese, spinach and apricot filling gives the perfect creamy yet sweet addition to the chicken 🙂
Ingredients
10 chicken thigh fillets

½ block Philadelphia cream cheese (125g)

20 dried apricots

30 baby spinach leaves (approx. 15-20g)

Salt and Pepper

Toothpicks required
Instructions
Flatten chicken fillets lightly with a mallet (I do this under a plastic bag so they don't splatter)

Cut the half Philadelphia block into 10 slices

Cut each apricot into halves so you have 40 pcs

In each flattened fillet place one cream cheese stick, 4 apricot halves and 3 spinach leaves.

Roll up or fold together into a parcel and secure with 2-3 toothpicks

Repeat until all ten are filled and secured

Place these parcels (open side up) into slow cooker

Season generously with salt and pepper

Cook on low for 5hrs

Liquid will form during cooking, that's ok

Remove toothpicks once plated or leave in place if you prefer

This recipe also features on page 139 of our book SLOW COOKER CENTRAL - READY SET SLOW! Available on the shop page of this website.