Submitted by Ann Turnbull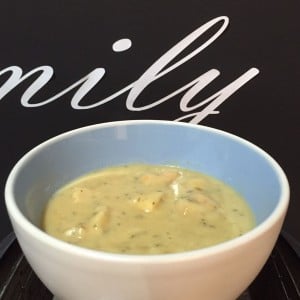 Seafood Chowder
Ingredients
1kg potato chopped in quarters

1 onion chopped

2 celery sticks chopped

Chives chopped

1/4 cup oyster sauce

2 cups water

300ml cream

800g-1kg marinara seafood mix

Bread to serve with
Instructions
Seafood chowder.

Place chopped : 1kg potato, 2 tablespoons of Chives, 2 celery sticks, 1onion, 1/4 cup oyster sauce and 2 cups of water into the slow cooker. Put on high for 1hr & low for 4-5hours.

Remove lid. Stick blend until smooth.

Then Place in 800g - 1kg of marinara seafood (grocery store mix from the deli). Put lid back on. Turn slow cooker to high for about 30-40mins until seafood is cooked. (Seafood is cooked when prawns are orange and fish is white). Add 300ml or more of cream. Serve with bread and a sprinkle of chives.

Tips: if there is too much fluid after blending, leave the lid off when cooking the seafood. Also add more cream if you wish. It also works well with lite cream for lower calorie option.