Submitted by Deb McCoy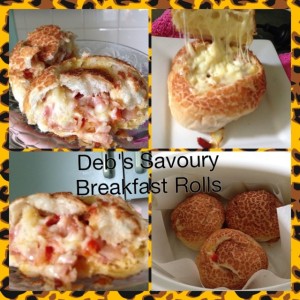 Savoury Breakfast Tiger Buns
Ingredients
4 bread rolls (I used tiger rolls),

3/4 of an onion diced,

1/2 a red capsicum diced,

6 to 8 slices of middle bacon diced, oil for frying.

3 eggs and a dash of milk,

salt and pepper.

Tasty cheese thinly sliced or grated.
Instructions
Fry bacon, onion and capsicum in oil until just cooked.

Line cooker with baking paper.

Turn slow cooker on HIGH.

Cut tops off of tiger rolls (or rolls of your choice) hollow them out.

Put bacon, onion and capsicum mixture inside the rolls evenly.

Mix the 3 eggs, milk, salt and pepper.

Pour this over the bacon mixture.

Place sliced or grated tasty cheese on top of the egg mixture in the rolls.

Replace the lid you cut off of the rolls.

Put the rolls into preheated cooker.

Cook for approximately an 1 hour on HIGH, tea towel under lid, or until the egg mixture has cooked.