Submitted by Jodie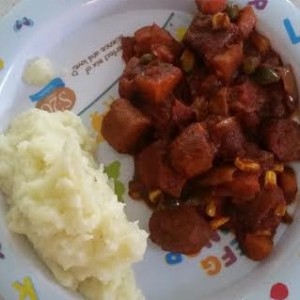 Sausage suprise
Ingredients
10 sausages

1 x Green capsicum

1/2 tbsp Sweet chilli sauce

1 heaped tsp Garlic

1/4 cup BBQ sauce

Tin tomatoes

3 heaped tbsp Tomato paste

3 tspn Dried mixed herbs

1 tsp Dried thyme

1 tsp Dried basil

1 tbsp Olive oil

1/2 tbsp Mint sauce

2 large Carrots

Mixed frozen veg

3 tspn All purpose seasoning

1 medium Onion

14 medium Mushrooms

Salt and pepper
Instructions
Cook sausages in thyme/basil/oil mix, slice roughly and throw in slow cooker.

Dice capsicum, carrot and onion, slice or quarter mushrooms, throw in the slow cooker.

Add 3 heaped spoons of tomato paste, tinned tomatoes, a heaped teaspoon of garlic (or to taste), a couple of shakes of mint sauce, a good squirting of BBQ sauce, a couple of shakes of mixed herbs and all purpose, about a cup and a half of mixed veg, as much sweet chilli as you like and season to taste with salt and pepper.

Stir it all together, put the lid on and let it cook for 5hrs on auto.

This would equate to 2hrs high then 3hrs low

Serve with mashed potato.