Submitted by Robyn Clark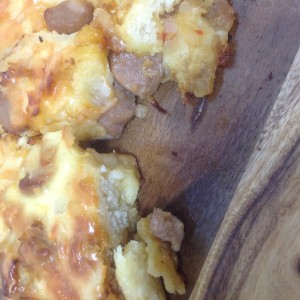 Sausage Scrolls
Ingredients
2 cups SR flour

1 Cup Greek yoghurt

4 skinned sausages ( chopped into small pieces)

1 teaspoon minced garlic

3 hash browns ( crumbled)

1 diced onion

Sweet chilli and BBQ sauce

Grated cheese
Instructions
Make a dough using the flour and yoghurt, roll out to 1/2 cm thick.

Fry off the onion, garlic , hash brown and chopped sausages. Add the sauces and fry until sticky looking.

Spread the mixture evenly over the rolled out dough and top with grated cheese . Add some more sauce. Roll up and cut pinwheels.

Place in your lined and greased SC and cook on high 1 1/2 to 2 hours.

Place under the griller to brown the top.