Submitted by Kirsty Young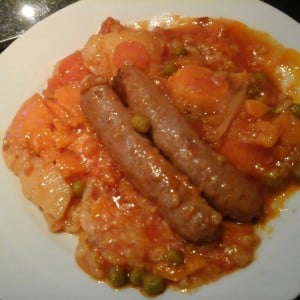 Sausage Layer Casserole
Ingredients
2 medium potatoes per person, thickly sliced

2 carrots, thickly sliced

1 onion, thinly sliced

2 golden kumera, thickly sliced

1/4 cup arborio rice

1 cup peas

salt & pepper

2-3 sausages per person

1 420gm can condensed tomato soup

1/2 cup grated cheese (optional)
Instructions
Grease slow cooker and place veges and rice in layers, in the order given above, lightly seasoning each one as you go.

Place sausages on top, away from the sides of slow cooker.

Pour over the can of soup, mixed with 3/4 same can of water, rinsing out the soup residue in can, as you do it.

Place lid on slow cooker, and cook for High 5 hrs or Low for 8 hrs.

Just before serving, sprinkle over the cheese, if using.

NB: this recipe can be adjusted to cater for bigger or smaller numbers of servings and sizes of slow cookers, by varying the quantity of the ingredients. It is a great all-in-one meal, one I adapted from an oven recipe given to my mother some 40 years ago!!