When I was offered the opportunity to review this great product I was excited.
I've reviewed a lot of slow cookers, quite a few multicookers and several air fryers .. but never have I reviewed ONE machine that did them ALL!
Russell Hobbs have delivered the dream machine with their Satisfry Air & Grill Multicooker 🙂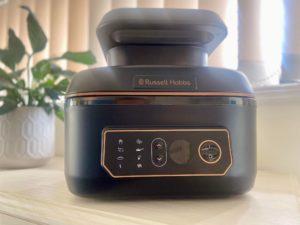 Let look at all the features of this machine!
The Satisfry Air & Grill has 7 smart auto-cooking functions and a manual mode
– AIR FRY – Healthier air frying with top and bottom heat, and a fan for even browning. Most other Air Fryers only use heat from the top, but this unit circulates air temperatures up to 260°C from the top and bottom for even cooking and all-round searing.
– SLOW COOK – Perfect for your slow cooking with both high and low slow cooker settings
– GRILL – Grill your foods + the preheat cycle can be used to heat the grill plate to add grill marks
– SEAR – This function will sauté and sear
– BAKE – Baked foods straight from your multicooker
– ROAST – Roast setting to cook whole pieces of meat, fish or vegetables
– KEEP WARM – Allows you to keep cooked food warm before serving
That's a lot from one compact and stylish unit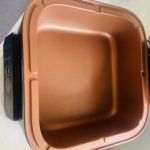 SLOW COOKING
One of the limitations for slow cooking in many multicookers is one fixed 'slow cooker' temperature.
We know that many great recipes need both HIGH and LOW slow cooker settings and the Satisfry gives you both!
Slow cooking low and Slow cooking high.
Each has a default time setting but you can adjust it to what you need before you start cooking.
What I love about this machine is that you can also use the SEAR or GRILL settings before you start slow cooking if you want to brown your meats, soften your onions or even add some grill marks to your sausages before you begin slow cooking. Then you can switch to slow cooker mode with no flavours lost, and no extra dishes or mess!
Then after your slow cooking has completed you can then select the KEEP WARM mode from your program options to keep your dish toasty warm for a maximum of 4hrs until you are ready to serve (though I do prefer 2hrs maximum personally for best results).
The switch to keep warm isn't automatic, it does have to be chosen manually.
I also love the generous wide shape of this cooker bowl, again something not many multicookers have
Note: The tea towel trick is not suitable for use in this machine though due to the hot upper element on the inside of the lid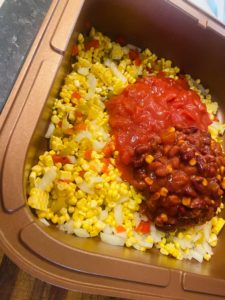 Recipe pictured is our Mexican Taco Soup
CARE & FEATURES
The 5.5L removable cooking pot and the durable grill plate are both dishwasher safe. Both can also be hand washed in warm soapy water.
Do not place the cooking pot into an oven or directly on a stove top. The cooking post must only be used in the Satisfry unit itself
The unit features a digital display with adjustable thermostat (for some settings) that I found easy to use and easy to clean.
I especially like the bright large timer countdown on the display panel so you can see at a glance how much cooking time is left! It also illuminates which setting is in use.
Temperature can be set at F or C – whichever you prefer or need for the recipe you are using.
Save up to 44% of energy costs compared to conventional ovens
Cooking time can be changed/adjusted during cooking
The lid can be opened during cooking and when you do so the cooking and timer pauses until you close it again
Your instruction manual comes with a quick guide to cooking times/temps and some recipes to get you started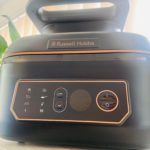 The machine comes with a 2yr warranty
RRP $299 and available from retailers such as Big W, Harvey Norman, Target, Goody Guys, Catch, Amazon, Kogan and more

Russell Hobbs received Canstar Blue's Most Satisfied Customer Award 2023 for slow cookers. Being rated best in Canstar Blue's slow cooker review, with five stars for performance, functionality, design, value for money, ease of use, ease of cleaning and overall satisfaction. So you know you are getting a great product when you slow cook with Russell Hobbs!

One pot can do it all!