RUSSELL HOBBS 6L MIDNIGHT SLOW COOKER
I'm all about functionality of a slow cooker – but let's take a moment to also appreciate how GORGEOUS this slow cooker is!
With its ombre look colour blend from black to silver shades, it's a stand out in any kitchen 🙂
I was in love with this one as soon as I saw it.
I'm thrilled to say it's also a fabulous slow cooker!
Let's explore all its features first:
FEATURES
6L ceramic cooking bowl – standard slow cooker size and great for families or batch cooking extra meals to freeze or share.
Tempered glass lid with easy grip knob.  Great for looking in at what's cooking without needing to open the lid and let heat escape.
Cool touch handles.
Manual control dial with OFF, LOW, HIGH & WARM.  A lot of people prefer a simple to use knob like this so there is no confusion of what it's on or how to set it like some digital models.
2year warranty
Cook Settings
Low is most commonly used for slow cooking and can cook for up to 8-10hrs depending on the recipe.
High is described as similar to a covered pot on a stove top and will cook faster and hotter than low.  It can be a great way to start a dish faster before turning back to low.
Warm should only be used to keep already cooked foods hot (not to cook food or reheat foods)  Warm should be used for a maximum of 4hrs but my personal preference is 2hrs maximum for good food quality when served.
Extra Details
Ceramic cooking bowl and lid can be washed in dishwasher.  If you have any cooked on food you can fill the empty pot with WARM water after serving to soak until you are ready to wash.  However do not sit the entire bowl IN water as the porous nature of the bottom of the cooking bowl can soak up water, causing it to crack when next heated.  If you don't have a dishwasher you can wash your bowl with hot soapy water and soft cloth or sponge.
The slow cooker comes with a selection of recipes for you to get started right away.
RRP $69.95 at Target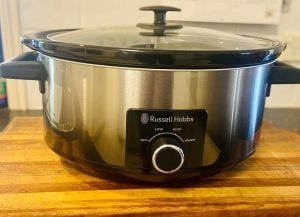 I trialed this new cooker with a Devilled Sausage recipe and it cooked exactly as I suspected temp and time wise.
Easy to clean afterwards and did I mention how pretty she looked on my bench? 😉
A wonderful addition to my slow cooker collection.
.