Russell Hobbs 4L Camden Burgundy Slow Cooker
Tired of the standard silver and black slow cookers and want something beautiful in your kitchen with a pop of colour?
This is the one for you!
A beautiful contemporary burgundy that will look great on your kitchen bench 🙂
You can even purchase a matching kettle and toaster in this colour range to all complement each other!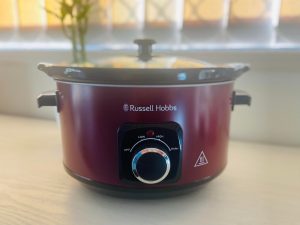 FEATURES: 
4L capacity ceramic cooking bowl
Tempered glass lid, great to keep an eye on what's cooking without the need to lift the lid and let heat escape
Cool touch handles
Power indicator light
Manual control dial, the easiest way to slow cook without any confusion
Temperature settings of OFF, LOW, HIGH, WARM
I love a power indictor light because you can always know at a glance if you have turned on your slow cooker, or if you have turned it off after.  Always reassuring.
Some can find digital controls complex or confusing so a simple turn the dial knob like this is fool proof!
It's always a great option to have a keep warm setting so that if your meal is cooked a little early, or your dinner has to be served a little late, you can switch to keep warm and save dinner.  I personally recommend no longer than 2hrs for ideal food quality (though some will stretch that out to 4hrs)
I put this cooker through her paces with a delish pickled pork.
We have a family of 5 and the 4L capacity was still plenty of space for a large piece of pork to feed everyone easily.
It cooked exactly to my expectations of time and heat, and I was very happy with it 🙂
CARE AND MAINTENANCE: 
Do not soak the ceramic bowl in water or its porous base can soak up water and cause it to crack.  It is however ok to fill inside the cooking bowl with water after cooking to soak.  Always use warm water to do so, never add cold water to a hot bowl or it too can cause cracking.
Dishwasher safe cooking bowl and lid.
Never immerse or wash external cooker casing, only wipe that over with damp cloth and mild detergent if necessary.
2yr warranty for this slow cooker
RRP of this cooker is $49.95 at Target
.